Sustainable development thinking that has emerged since the 80s of the twentieth century is no longer a new issue. However, the realization and standardization of synchronization is still a story of the future. The value systems between natural and man-made ecology have not yet reached the equilibrium threshold, unable to promote their functions in "rescuing" the environment. Especially in production and business activities because of many objective factors. In which, steel structural materials are considered as materials that meet the criteria of sustainable development.
1. 5 criterias for Steel Structure to be a sustainable development material
1.1 Continuously recyclable steel material
Dai Dung develops in the field of mechanical engineering to manufacture steel structures because the source of materials offers the opportunity to be recycled and reused continuously to help reduce the waste of natural resources. Because of its metallurgical properties that can be melted and cast, steel is considered one of the most recyclable materials.
1.2 Processed steel materials produce less waste
Compared with other construction materials, steel when processed is less wasteful and eliminates much because there is a mold according to the original design requirements. If there are excess parts, it is still possible to take advantage of renewable smelting, so Dai Dung's processing and manufacturing of steel structures helps to optimize costs, maximize use, and reduce depreciation during the manufacturing process. The process of grinding and cleaning the surface of steel structures during the fabrication process does not cause much loss, saving manufacturers and investors.

The Future of Us Exhibition Pavilion Singapore project (2015-2017) DDC participates in the implementation process
1.3 Steel structure house saves energy
An industrial building/project from steel structure will help save energy. Specifically, the amount of electricity consumed under the influence of weather when using heating, dehumidifying or air purifying systems, equipment. Carbon emissions are also reduced when using steel materials and steel structures in construction.
DDC assumes the role of EPC general contractor in Long An Cold Storage Project 2023
1.4 Steel structure houses reduce environmental pollution
In recent years, the amount of CO2 emissions to the environment from industrial buildings/steel structure buildings is low and tends to decrease gradually. That contributes to the reduction of the greenhouse effect globally. Besides, the solution for customers from Dai Dung is towards green energy application. In particular, renewable lines such as solar power, wind power for lighting and cooling also contribute to saving fuel and significantly protecting the environment.
Dai Dung factory system has the roof installed with energy panels, converting renewable energy for living purposes.
1.5 Sustainable and cost-optimized steel structure house
A steel structure project will be sustainable over the years, the use time will be longer and thus will help the construction costs and materials be more optimized for investors and business owners. In addition, Dai Dung steel structure materials are not susceptible to physical deformation or environmental factors.
DDC steel structure preservation house ensures its stability year after year
2.1 DaiDung standardizes from sustainable development of steel structure products
Over the past 10 years in Vietnam's Mechanical and Steel Structures industry, sustainable development is considered a story that does not belong to any enterprise. Because this is a matter of inheritance, determining the development of the world. DaiDung since 2010 has been thinking about the journey of operation and production according to the criteria of sustainable development. However, the resources at that time were not enough to meet the implementation requirements for enterprises to implement sustainable development as expected. By 2018, DaiDung began to think about the story of concretizing actions so that in 2019 An Ha Factory would reach the Leed Gold 4v international certification standard for green buildings with environmental and energy solutions.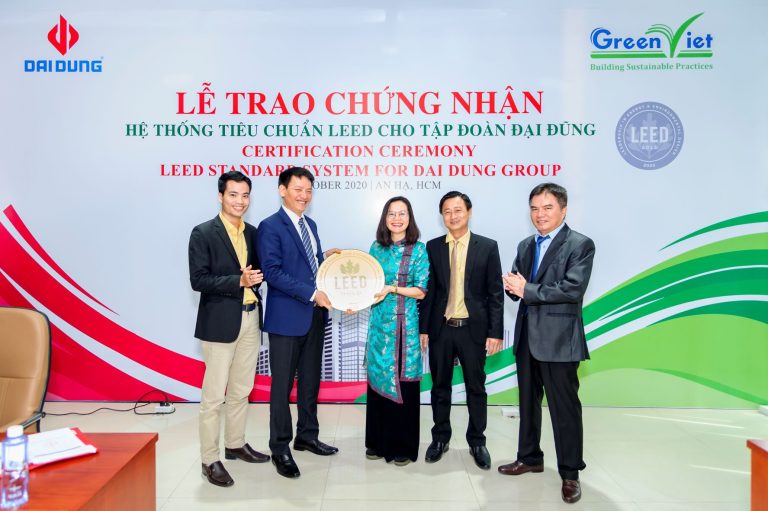 2.2 DaiDung's solutions to implement sustainable development 2023
Facing the current volatile economic situation, DDC aims to take specific actions:
Focus on professional training so that the DDC team becomes elite people;
Invest in production lines; Improve the quality of supply chain management;
Improving the service ecosystem – high quality products;
Promote export markets to reach the world;
Maintain capital and financial flow, contribute to restructuring DaiDung to achieve IPO in 2023;
Building corporate culture, sharing responsibility with the community;
Standardize the digital governance system and achieve sustainable development goals 2023-2027.
Resources by MKT DDC